---
At MERLYN we have built our name and reputation on a simple ethos – to deliver on everything we promise to our customers, because you are at the heart of everything we do. As the UK's No 1 showering company, we have a large range of stylish shower enclosures, shower trays, and bath screens for any bathroom renovation or revamp. For us, it is all about providing the ultimate showering experience. Enjoy browsing through the Nexa by MERLYN range.
The right shower enclosure for you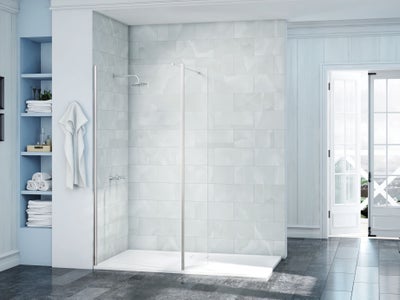 Large bathroom space
The luxury of a larger bathroom is it gives you the freedom and flexibility to choose your dream shower with wet rooms or walk-in showers being a popular choice, for accessibility and adding value to a home. Due to the minimalist nature of a wet rooms design they really add a 'wow' factor to any home.
You can also consider rectangle shower enclosures, which generally require more space than square shaped enclosures. Sliding or hinged shower doors work wonderfully in a larger space providing a real focal point.
Offset quadrant shower enclosures which are slightly larger than the standard quadrant shower doors also work well for larger spaces. They provide an expansive feel as they use a larger proportion of one wall, a true statement piece.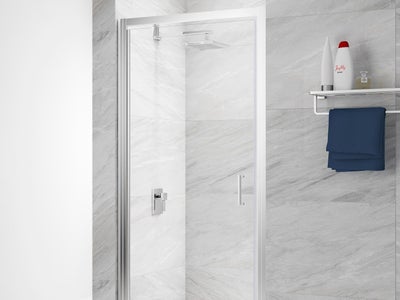 Small bathroom space or en suite
The bathroom can be one the busiest spaces in the home, even though it is often one of the smallest. Designing a small bathroom around a shower enclosure can seem ambitious yet starting with a space-saving enclosure makes it achievable and practical.
If you are limited on space, you will want to think about how the shower door opens. The Nexa by MERLYN range has an array of options that are stylish, functional, and easy space-savers including sliding doors and bifold doors which will not require any extra room for opening; meaning you have more space for your morning routine.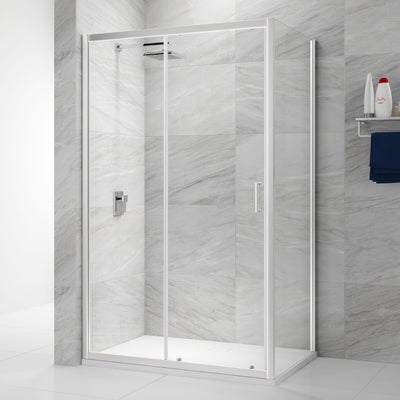 Nexa 6 Framed
The Nexa 6 range delivers stylish, quality products that come with pre-assembled fixtures, making it easier to fit. 6mm glass thickness produces a solid feel and if you are budget conscious, Nexa 6 provides high quality and great value.
6mm toughened glass
Easy clean Mershield Stayclear protected glass
10 year guarantee
Shop now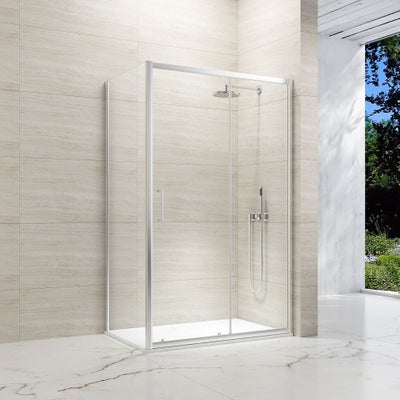 Nexa 8 Framed
Nexa 8 Framed is a stylish 8mm range, precision engineered to suit every bathroom space. 8mm glass thickness gives the shower enclosure a stronger feel and is an ideal choice for those wanting a robust shower experience.
8mm toughened glass
Easy clean Mershield Stayclear protected glass
20 year guarantee
Shop now
Nexa 8 Frameless
Featuring a minimalist, sleek design, the Nexa 8 frameless range, with its trademark chrome hinges and handles, is the perfect complement for both contemporary and modern styled bathrooms.
8mm toughened glass
Easy clean Mershield Stayclear protected glass
20 year guarantee
Shop now
---
Nexa wet rooms
If you have relaxation and pampering in mind when refreshing your bathroom, wet rooms or walk-in showers are a popular choice and will create a super-chic, on-trend bathroom. Wet rooms are a type of shower without an enclosure. They have an open, fully tiled shower space, where the floor is on a slight gradient to allow the water to drain fully. As the shower area is not fully enclosed, water can escape so it is important the room is designed with this in mind. Wet rooms are generally easier to clean as you have less features to worry about. In the Nexa by MERLYN wet room range we offer clean, streamlined shower screen designs, for you to create your own spa-inspired bathroom.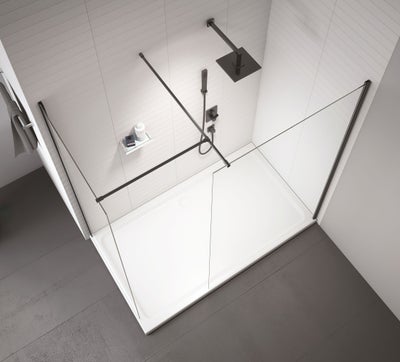 Nexa Black Shower Walls
Black is back! Statement pieces in the bathroom are increasing in popularity with the trend of moving away from the standard colour options of white and chrome and opting for bolder finishes to match a home's unique style.
Height 2015mm
8mm glass thickness
20 year guarantee
Shop now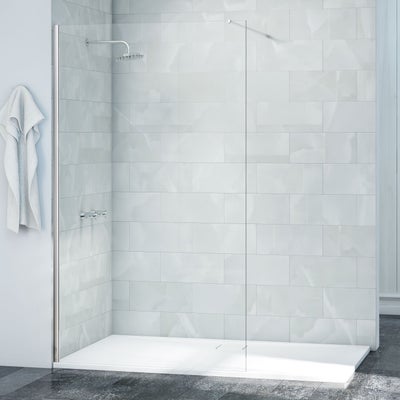 Nexa Chrome Shower Walls
Chrome shower walls are timeless and bring an elegant look to any frameless design structure, leaving a luxury finish in any bathroom.
8mm toughened glass
Easy clean Mershield Stayclear protected glass
20 year guarantee
Shop now
---
Nexa shower trays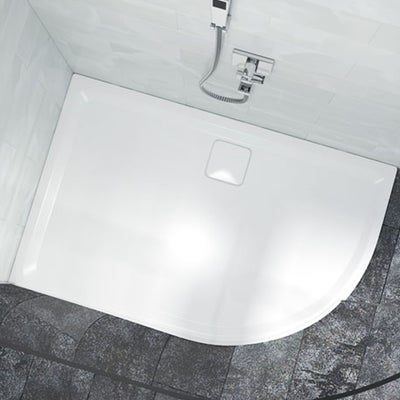 These minimalist designed shower trays are capped with an easy to clean surface, that provides a chemical-resistant, anti-bacterial solution due to its ultra-smooth, non-porous surface
The discreet integrated waste cover also ensures it is aesthetically pleasing while still being a highly functional shower tray
It is available in square, rectangle and quadrant shapes
Shop now
---
Nexa bath screens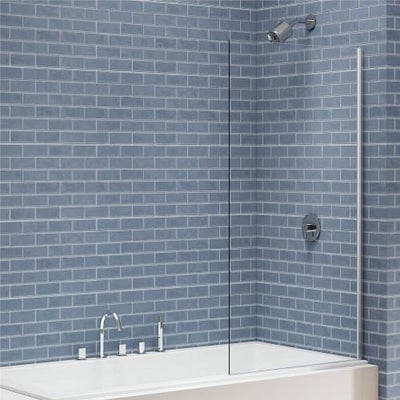 It is important to consider the size of the bathroom and how easy it will be to get in and out of the bath
Bath shower screens are much easier to clean compared to shower curtains, and a glass screen will create a sense of light to open even the smallest bathroom
Nexa by MERLYN offer a single fixed panel bath screen, hinged panel or a folding bath screen, meaning you don't have to compromise on what will work for you so you can enjoy a relaxing bathing experience
All Nexa bath screens come with 8mm toughened glass, giving you a strong, durable experience
Shop now