2019 Cocktail Trends And Recipes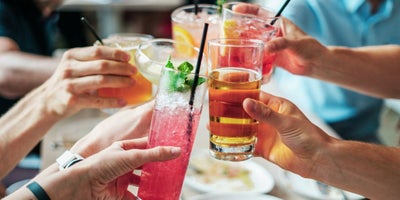 Get ahead of the curve and impress your dinner party guests this summer with our perfect 2019 trend inspired cocktail and mocktail recipes.
According to the Culinary + Cocktail Trends Forecast 2019, this year's trends have a few surprises in store.
Experimental ingredients and pairings will make their way onto menus, with food inspired influences including rose, turmeric and mushrooms making a big feature.
Expect to find more edible garnishes and active sustainability in mixology, alongside mocktails elevated with homemade syrups and non-alcoholic spirits.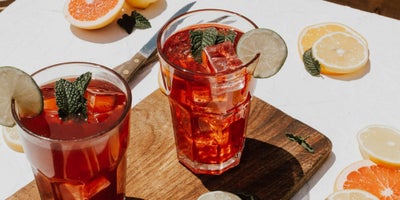 Blood orange and golden turmeric fizz
Hydrating, refreshing and delightfully complex. Add a generous glug of tequila for an evening treat.
Juice of fresh blood oranges
Pinch of turmeric
Pinch of ground ginger
Squeeze of lime
Sparkling or soda water
Handful of mint sprigs
Ice cubes
Shake the blood orange juice, lime and spices with ice in a shaker, then pour into a highball glass over ice, topped up with soda or sparkling water, garnished with a sprig of mint.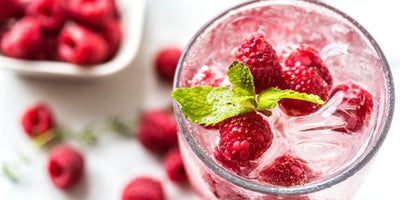 Rose Petal Sangria
A refreshing summer alternative that's great with herby canapés. Make your own rose petal syrup for elegant and botanical notes.
Dry rosé or pink prosecco
Splash of rose petal syrup (dissolve 1:1 sugar to water, infused with edible rose petals and rose water)
Good glug of elderflower vodka
Squeeze of fresh lemon
Handful of freshly torn mint leaves
Scattering of frozen raspberries
Ice cubes
Fizzy water
Into a large jug add the chilled fizz, a splash of rose petal sugar syrup and a good glug of elderflower vodka. Before serving add the ice cubes, a squeeze of fresh lemon, the torn mint leaves, a scattering of frozen raspberries and top up with fizzy water.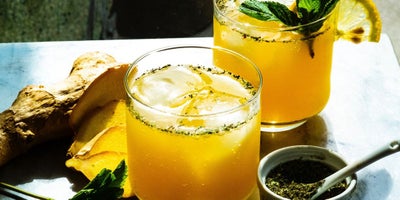 Kombucha Moscow mule
Replace the usual ginger beer with sweetened ginger kombucha for a fermented, tart and fruity refresher.
Generous glug of vodka
Good quality ginger kombucha
Squeeze of fresh lime
Splash of sugar syrup (dissolve 1:1 sugar to water)
Fresh lime wedge
Torn mint leaves
Ice cubes
Shake the vodka, lime and syrup then pour into a highball glass or copper mug over ice, topped up with fizzy kombucha and garnishing with a wedge of lime and mint.