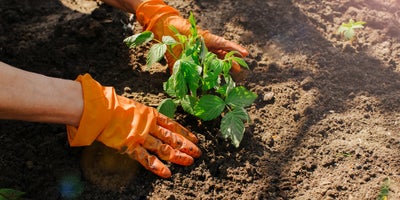 Planting bare root shrubs in February can be rewarding if done correctly, as well as an effective way to establish a strong root system and enjoy healthy growth in the coming months. Bare root shrubs are an excellent addition to any garden, as they offer numerous advantages. One of the key benefits of choosing bare root shrubs is their cost-effectiveness, as they are generally more affordable than potted counterparts due to lower production and shipping costs. Moreover, bare root plants tend to establish more quickly in the garden, as their roots can grow undisturbed and form strong connections with the native soil.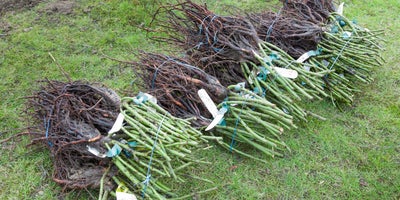 What are bare root shrubs?
Essentially, they're plants that are sold with their roots exposed, without any surrounding soil or container. They are typically dormant when sold, which allows for easier adaptation to their new planting environment. It's essential to plant bare root shrubs during their appropriate dormancy period, usually autumn or early spring, to ensure optimal growth and development. Keep in mind that these plants must be handled carefully to prevent root damage and should be soaked in water before planting to promote root establishment.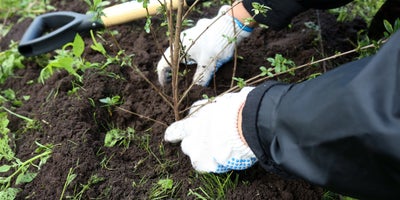 Planting bare root shrubs
Before you can plant them into the ground, they will need to be soaked in rainwater for half an hour to an hour to give them a little hydration. Once you're happy with their condition, select a suitable planting site with well-draining soil and the appropriate amount of sunlight for the chosen shrub. Dig a hole that is approximately twice as wide and deep as the shrub's root system, ensuring that the soil is loose and workable. Next, gently spread out the roots and place the shrub in the planting hole, ensuring that the root collar is level with the soil surface. Finally, backfill the hole with topsoil, tamping down the soil gently but firmly around the roots, and water thoroughly to establish good root-to-soil contact and encourage a healthy start for your new shrub.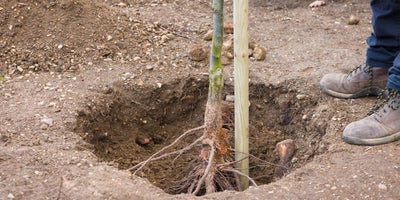 Planting bare root trees
This process is the same if you want to plant bare root trees but with one exception: the roots will need to be soaked in rainwater overnight. This is due to their size being generally much bigger than shrubs and therefore, it takes longer to absorb the moisture they need. But by doing this, you will give your tree a much higher chance of survival. The only other addition to planting bare root trees is depending on the age and strength of the tree; it may need a garden stake hammered into the ground and attached with string or band to help keep it anchored and upright.
'In the green' planting
February is a good month to also plant a number of different crops and 'in the green' plants such as snowdrops, artichokes, shallots, raspberries and blackberries. Planting in the green refers to the practice of transplanting plants and shrubs while they are actively growing and have foliage, as opposed to the more common method of planting them during dormancy. This technique offers several benefits, including a higher success rate and faster establishment in the garden. Keep in mind, however, that planting in the green requires careful timing and extra care to minimise stress and damage to the plants during the process.