Make an impact - hallway makeovers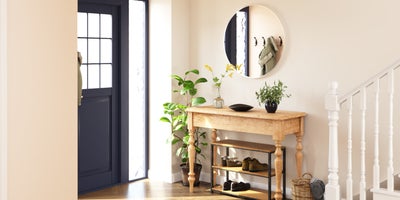 The hallway is often an overlooked part of the home when it comes to interior design. Yet, it can be a great way to express your style and make a lasting impression on those who visit your home. Designers are incorporating more colours, textures, and materials into hallway design, making these spaces as unique and stylish as the rest of the home. Sometimes it's the subtlest changes that make a big impact, or you might want to go full-on with a dramatic makeover. Either way, you can easily breathe new life into your hallway by following the latest trends. From paint and wallpaper to furniture and accessories, there are plenty of options that can help you create the perfect atmosphere with which to welcome visitors.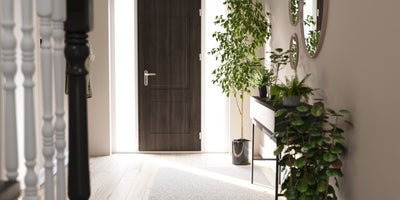 Plants
You usually have them in rooms, whether it's the bathroom, bedroom or the lounge, but plants look at home in hallways too. Obviously, they add plenty of character in a decorative sense, but they also bring other benefits such as an improved mood, reduced stress, increased productivity and purified air quality. Some easy-to-grow houseplants include a Madagascar dragon tree and rubber plant, both of which add a bit of height to your space. Ivy is ideal to hang from any shelves or raised ledges in your hallway. Bear in mind that with any plant you're going to have indoors, it needs to be suited to indoor conditions that usually include fluctuating temperatures and limited direct sunlight.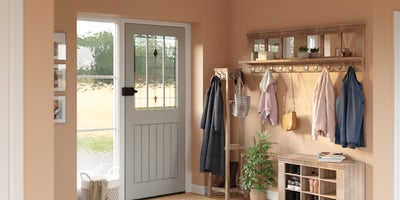 Storage
Because it's such a multi-functional space, it requires special attention. It's a good idea to use glossy materials that reflect plenty of light when finishing your hallway. That applies to everything from the ceiling to the walls, the floor and any furnishings. Good lighting makes the space feel bigger. Being smart with storage is also crucial- it's a functional space after all. You ideally want somewhere to put shoes, coats, umbrellas and more, but you don't want them to overwhelm the space. Combining seating and storage is both handy and space-saving, while also keeping clutter to a minimum.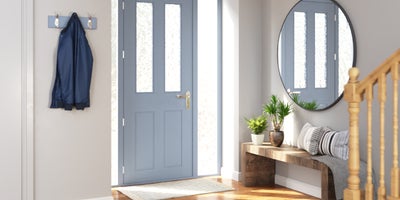 Mirrors
In addition to plants, adding a few mirrors can make all the difference in a hallway. Mirrors not only make a small space appear larger and brighter, but they also add visual interest, reflect light, and give the illusion of a larger space. Furthermore, having a mirror in the hallway can be particularly beneficial if you have limited natural light in the area. All in all, integrating plants and mirrors into a hallway can create a more pleasant and inviting space.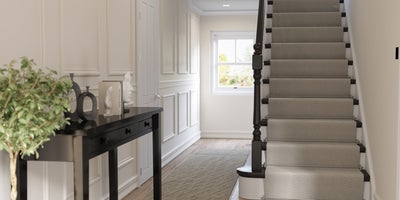 Neoclassical
In terms of style, we'll be seeing a lot of Neoclassical design, which combines traditional and modern elements to evoke a timeless elegance. Neoclassical interiors often feature grandiose elements like intricate mouldings, carved furniture details, and classic, elegant fabrics. If you're thinking about using this style for your hallway, focus on neutral shades of colour such as whites, creams and beiges. There's a focus on symmetry, as well as emphasised horizontal and vertical lines. Any furnishings or artwork should feel timeless, but more contemporary use tends to see more slimline furniture and an overall more minimalist approach to the style. There's also classical architectural detail, with high ceilings and Greek columns. Colours are typically muted and soft greys, blues and greens that accompany white or cream, with accenting shades of black or gold. It results in a look that's luxurious but refined.