Refreshing your staircase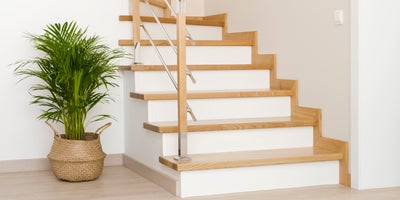 You might assume that the stairs are the one part of your home interior that you can't really do much with, but you'd be surprised. Granted, you can't move them or rip them out, but you can completely refresh them in a creative way. Because they're such a big feature of your home, upgrading them can have a huge impact on the look and feel of your space. Plus, it's not as tricky as you'd think. They might be an extremely functional part of the house, but that doesn't mean that they don't deserve a chance to shine and add to the aesthetic.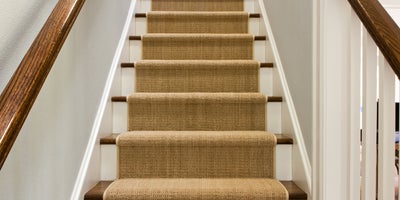 Stair runners
If you have wooden stairs, a touch of fabric can go a long way in adding an upgrade to both the look and under-foot comfort. Whether it's stair runners or stair rugs, make sure to secure it properly so that they're safe to walk on. You can create your own decorative design using fabric and it's pretty cost-effective and straightforward. Plus, fabric comes in so many different colours and patterns, so you can find the exact style you're after. Once you have your chosen fabric, stick it to the risers using glue and smooth out any bubbles so that it's pressed down firmly along every edge.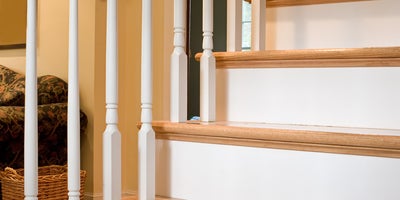 Risers
If you want a simpler way to add colour to the underside of your wooden stairs, you can simply paint your risers to add another dimension. That way, you see the natural wood as you walk down and get a pop of colour on the way up. You can go as loud or as subtle as you'd like, and even do a gradient that changes on the way up or down. Alternatively, you could paint the entire staircase if you're not bothered about the natural wood. Even a fresh white coat will give them a significant freshen up and open up the space a bit.
Gallery wall
You might find that you're happy with the stairs but want to refresh the area around the staircase itself. An ascending gallery wall is a great way to get more photos on display and adds loads of character to what is typically quite a bare area. It doesn't just have to be family photos either, you can fill your frames with your favourite artworks or decorative bits that specifically match the style of your décor. Why not experiment with different sizes and style of frames that either complement or contrast your stairs and banister?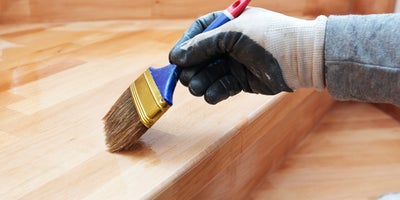 Classic look
For a more classic look, it's worth restoring the wood if you want to appreciate the natural beauty but it's looking a bit tired. The stairs are a high-traffic area and over time, even the most outstanding natural wood grain will begin to show signs of wear. Refinishing wooden stairs can restore them to their former glory, which can completely refresh the space itself. It can be a bit labour intensive, but the end result is worth it. Give your entire staircase a good sanding down, before repairing any damaged areas with a bit of wood filler, and then varnishing or painting the wood. When it comes to varnishing, you'll want to apply multiple thin coats with a high-quality brush and make sure to wipe off any excess.