How to decorate your outdoor cinema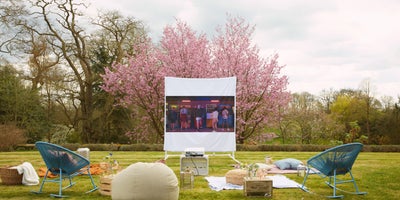 Once you've got your screen up and running, you'll still need the other essential items to achieve your desired outdoor cinema setup. Whether you're getting the family round for an alfresco movie night or gathering friends to watch the some sports, you'll need to make sure that your open-air cinema looks and feels the part. Comfort and refreshments are just as important as the aesthetic of your space, so make sure you're fully stocked up.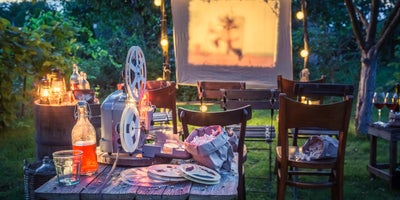 Lights
Some nice decorative lights can add warmth to the space, but you might need to turn them off when you start watching in order to avoid them distracting or affecting the picture.
If you've set up your screen on a deck or patio, hanging up some fairy lights can really make things feel cosy.
For setups at the bottom of the garden, use spike or post lights to illuminate the path to your outdoor screen.
For something less impactful and more atmospheric, try setting up some candles around your cinema area. Plus, citronella candles have the added benefit of keeping unwanted bugs away during balmy summer evenings.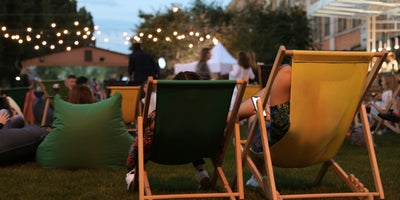 Seating
Your seating will depend on a number of things; what sort of garden furniture you have already, how many people you're accommodating, and the kind of vibe you're going for.
Cushions and beanbags offer soft and squidgy comfort while keeping you low to the ground so that everyone can easily see the screen.
Camping chairs or deckchairs offer more support and are slightly higher off the ground for easier accessibility, and their foldable design makes them easy to move and store at the end of the night.
If your ground is soft enough, a selection of picnic blankets might be enough. Don't forget additional blankets to throw over your legs if temperatures drop.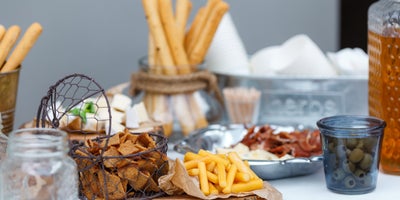 Refreshments
A large snack table is a great place to put out all the cinema essentials such as popcorn, sweets and savoury nibbles, as well as a selection of drinks. This lets your guests help themselves buffet-style before taking their seats.
If you want to keep your drinks cold, fill a bucket with ice and put your cans and bottles in there.
Mini apple boxes make for great individual tables next to people's seats so that they can put down their drinks and snacks and keep them close.