How to lay a sleeper pathway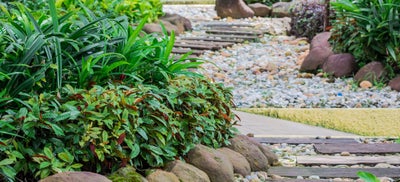 Ideal for gardens that are in regular use, paths provide handy walkways that you can use to zone, separate and border your spaces. Often leading to accessible areas in your garden such as the shed, bins, patio or pond, they can also be an attractive way to break up your lawn and avoid trodden down grass.
While pathways can be made from any number of different landscaping materials including concrete, paving slabs and stone tiles, timber sleepers provide a solution that's versatile, rugged and easy to lay. With a little imagination, they can be used in a variety of ways and don't require much expertise or experience.
Whether you're planning a garden makeover or have leftover sleepers ripe for a project, here are our planning tips and project advice on how to lay a sleeper path.