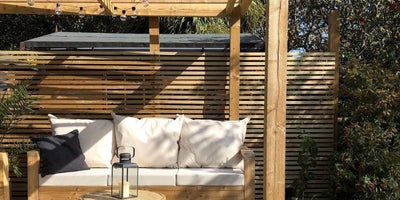 What better way to give your garden a fresh look than to kit it out with the latest garden trends of the year? There are loads of ways to style up your outdoor spaces and make them as attractive as they are practical. Discover our trends and find fun ways to bring your garden to life.

Indoors-outdoors
Blur the lines between indoors and out by utilising your garden as a 'fifth room'. When the weather is good, it's the ideal place to spend time with family and friends so why not treat your garden like an alfresco living room?

You can extend your living space outside by using natural materials, especially ceramics, coloured glass, granite and more.

Make the space comfortable and hospitable with a nice lounge chair or hammock, as well as ample lighting. String lights, lanterns, outdoor lamps and more will all help to create the ideal ambience.

Entertain guests by relaxing around a firepit or cooking up a storm in an outdoor kitchen.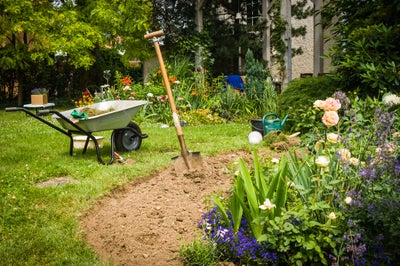 Sustainability
Sustainability is a trend that continues to grow and remain as important as ever, and more extreme weather requires you to think about the plants as well as the furnishings in your garden.

It's all about choosing the right plant in the right place, so that they can not only survive but thrive in the right conditions.

Try using even more plants to make sure your soil is carbon-rich, as opposed to imported hard landscaping. Not only does it look beautiful, but it will attract insects too.

Mediterranean drought-tolerant plants, or other plants indigenous of warmer climates, are ideal for cutting back on water usage.

Upcycle existing items such as pre-owned garden furniture or decorations, to give your garden some character. You'll be surprised how a clean and some TLC can restore an item to its former glory.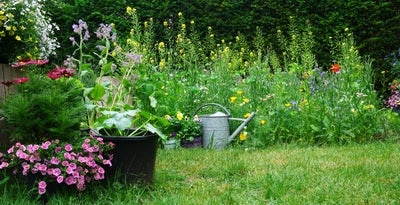 Rewilding
Gardens are moving away from the perfectly landscaped look and towards something looser, wilder, and more immersive.

It's about making the space look more natural as opposed to a space that's obviously designed.

Welcoming more plant life to your garden is a great way to increase biodiversity.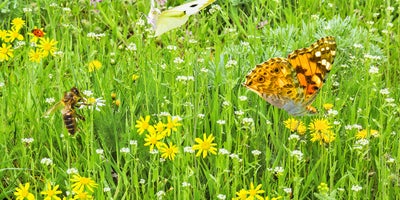 Tapestry lawns
A low-maintenance alternative to a perfectly cut, striped lawn, tapestry lawns are created using a combination of many different mowing-tolerant plant species.

They don't require the constant mowing and upkeep of regular grass, increasing the number of both plant and insect species that are able to inhabit the lawn.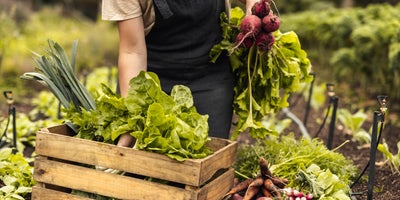 Grow your own
With the constant growth of veggie and vegan lifestyles, as well as the cost of food and produce, growing your own is a great way to get your greens.

There are options to suit everyone, with easy to grow vegetables, salads and herbs available no matter the size of your garden.

While you don't need loads of space, it's important to choose an area that gets a good amount of exposure to sunlight.

A mini greenhouse, whether it's indoor or outdoor, provides shelter, light and warmth for your plants. They help you grow throughout the year, while being a fraction of the size and price of a full-sized greenhouse.
More inspiration from Wickes