Planning & preparation
We are going to show you how to make a French cleat storage system step by step.
Simple, stylish and endlessly practical, a French cleat system utilises near-flat vertical lengths of timber with a 45 degree angle cut. These angled cuts are used to hook on accessories that have a compatible 45 degree hook attached, allowing you to tidy your workspace and organise your tools.
There's lots of room for flexibility with the scale of French cleat storage systems. They can be made in any length and size to suit your home. Calculate the dimensions of your space to work out the size and number of cleats you can accommodate.
You can add as many or as few shelves as you like depending on the room you have available, and there's plenty of room to get creative and come up with a design that suits your space.
Once you have built the fundamentals of the cleat system, you can make all manner of bespoke units to suit your needs. With endless design possibilities that can grow with your wall as your toolbox expands; try making tool holders, boxes, hooks and clamp brackets from scrap timber to get started.
The materials for the cleats and toolbox project will cost under £60 and take a DIYer with moderate skill, approximately 4 hours to build.
Doing it right
Our step by step instructions are designed as a guideline to build a French cleat storage system and a timber toolbox.
We have chosen to work with hardwood plywood for this project for its versatility and strength. While you can certainly utilise offcut timber from other projects for the accessories, we would recommend using plywood for the cleats.
To maximise the sheet timber, we have designed our cleats so that they are 5 inches or approximately 130mm wide. You can easily tweak this measurement to suit your space and custom design.
For a French cleat system to work, you will need a straight and true surface. If your walls are uneven or you think the system will need some extra support, it can be a good idea to clad the area where the cleats will be mounted first. Use matching plywood or large sheet timber for a contrasting look.
The cleat system is designed to hold a number of accessories and storage utilities. If you feel that your wall needs additional support, insert wall plugs before screwing through the lengths.
Study the build instructions before construction to allow for measuring and cutting the timber efficiently. You can save time when cutting identical lengths by making a chop saw stop block.
If you do not have a track rail for your circular saw, mark and scribe and line along the length of the timber and cut slowly for a precise finish.
Consider the tolerance, runout and alignment of your power saw blades when making cuts. Depending on the tolerance of your tools, you may find that dimensions are adjusted by approximately 3mm.
We have made a timber jig for this construction to aid speed, accuracy and repetition. If you prefer, you can measure and mark as you work, using a tape measure or metal ruler.
Watch our top tip videos for our Wickes DIY skills, tips and advice.
Staying safe
For safety, we recommend wearing protective goggles, a dust mask and heavy-duty gloves when using a chop saw or drill.
Check that your materials are securely clamped to your workbench surface before you begin making any cuts.
Inspect the cables and blade of the chop saw and circular saw before they are plugged in, to ensure they are in good condition. If any of the elements need to be replaced, make sure this is done before construction begins.
Always ensure that your construction area is well lit and ventilated.
Cutting the timber lengths
View instructions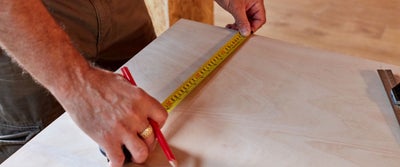 Taking your tape measure and pencil, measure in 127mm from the longest edge of the plywood sheet and mark with a crow's foot. Using a crow's foot arrowhead instead of a line is useful, as the apex can be interpreted from either side.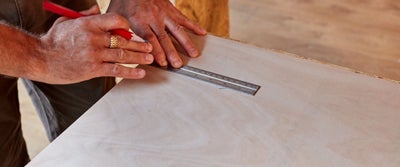 Scribe a line through the mark to create a guide for your circular saw, with a long straight edge or your combination square.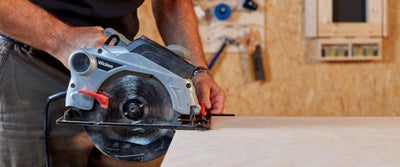 Place your circular saw on the sheet so the 0 degree notch is aligned to the pencil marking, then tighten the track rail. This rail will travel along the edge of your timber sheet producing a straight and accurate 90 degree cut.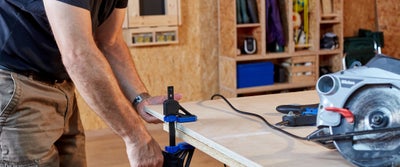 Adjust your plywood sheet so that it is slightly overhanging your workbench and clamp it in place. This will ensure that the circular saw blade does not cut through your workbench material.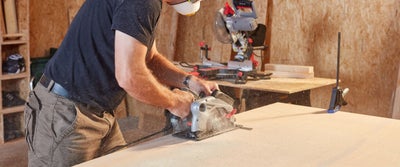 Using the guide, cut along the plywood with your circular saw, supporting the cut length as you reach the end, then set it aside. This can be a dusty job, so for safety, we recommend wearing a dust mask and goggles when cutting multiple lengths.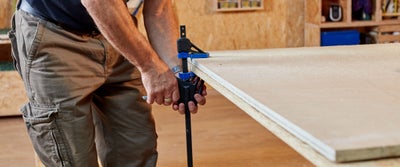 Unclamp the plywood sheet and readjust, so that it is overhanging your workbench again.
There is no need to mark the next cut as your guide rail is fixed in place. Simply run the track rail edge along the timber, to create your next cut.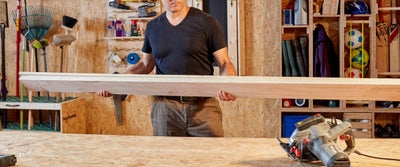 Repeat this process to cut as many lengths as your design or space requires. We made nine cleats to fit our workshop, but it's always better to cut more than not enough, allowing you to easily add to your wall in the future.
Cutting the 45 degree cleats
View instructions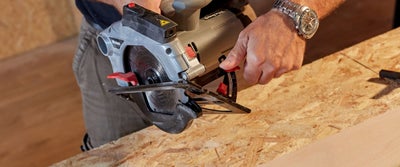 Once you have finished cutting your lengths, remove the track rail from your circular saw and adjust the saw position to 45 degrees.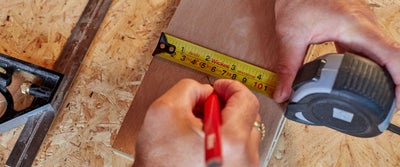 Taking one of your cut long lengths and laying it back on your workbench, use your tape measure to mark 55mm in from one of the long edges. Scribe a line through the mark with your combination square.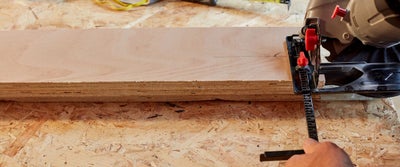 Place your circular saw so the pencil marking is aligned with the 45 degree notch and tighten the track rail as before.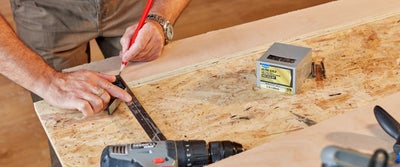 To ensure this length is secure while overhanging your bench enough to accommodate the saw blade, fasten it to your workbench with screws. Measure and mark the centre point between the 55mm scribed line and the edge furthest away from your cut line.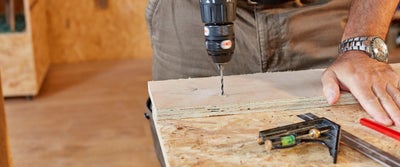 Repeat this at the other end, before drilling through to create pilot holes.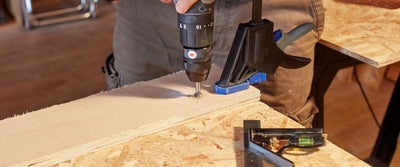 These holes will later secure your timber cleats to the wall, so they need to be accurate. For a tidy and professional finish, exchange your drill bit with a countersink bit and bevel the pilot holes so the screw will sit flush to the surface.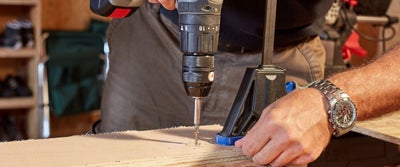 Secure the lengths to your workbench using screws.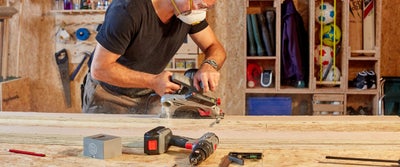 Remove the clamps then put your safety equipment back on. Ensuring the track rail is running flush to the edge of your timber, cut through the length at a 45 degree angle.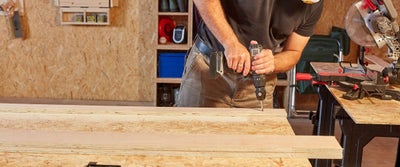 Place the narrow cut piece to one side then unscrew the plywood length from your workbench.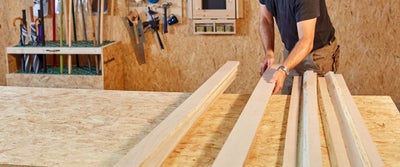 Using the same principles, cut each of your lengths at a 45 degree angle, ensuring you sort the cut widths into piles as you work. The wider lengths will become the wall cleats and the narrow lengths will be screwed to your toolbox accessories.
Gently remove any frayed, rough or sharp cut edges along each of the lengths, with your electric sander for a smooth finish.
Measuring your wall space
View instructions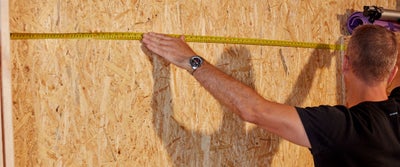 Now that you have cut your timber, you can measure your available wall space and decide on how many cleats you will need.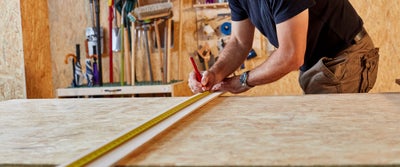 Using your tape measure and combination square, mark and scribe a line onto your first wider length.
Cutting the cleats to size
View instructions
To cut multiple lengths on your chop saw at speed, create an extended stop block using offcut or scrap timber. This will be screwed to your saw bench in the relevant position to ensure each cut is identical and accurate. You will also be able to use it to make consistent cuts without measuring each time.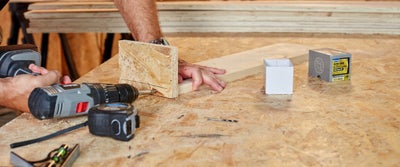 To create the extended stop block, screw a shorter piece of timber to a longer length to make an L shaped bracket.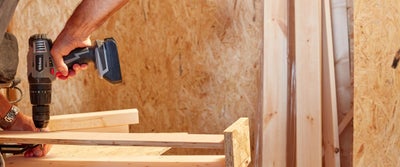 Offer up your first marked length to your chop saw so it's in the correct position. Ensuring that the 90 degree edge is against your saw fence, clamp it in place. Butt up the extended bracket to the end of the length, then screw the bracket down into your workbench.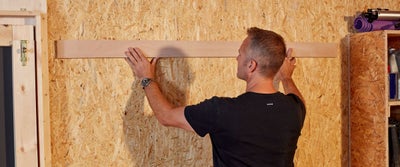 Cut your first length of plywood, then check that it's correct by offering it up to your intended wall. Once you're happy, cut the rest of your wider lengths to size, using your extended stop block to measure.
Adding pilot holes for wall mounting
View instructions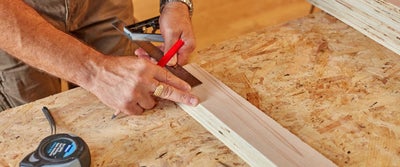 Starting at the end of a length, use your measuring tape to mark out equal distance pilot holes. Depending on how you cut your lengths, you may already have a pilot hole at one end.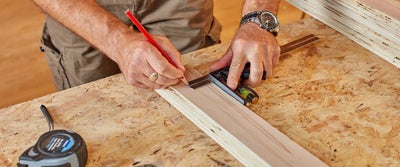 Using your combination square, measure halfway across the back of your wider length and make a mark at each position.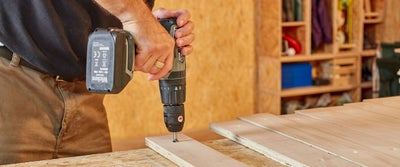 Drill through each mark to create pilot holes then turn the length over. Use your countersink drill bit to create a neat bezel at the front of each hole for a tidy finish.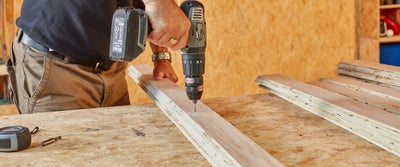 Use this first length as a drilling template by laying it on top of your next length and drilling through. This can help save you time and ensure your screws holes are aligned, so when they're on the wall they look neat and tidy.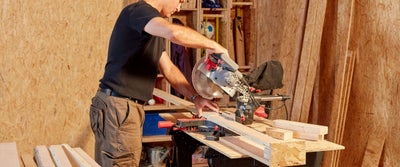 Repeat this for the remainder of the wider lengths, then sand both sides to ensure the pilot holes are smooth.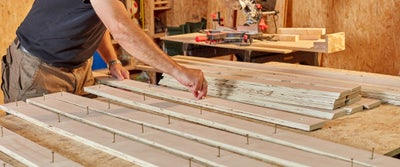 To aid the process of securing the cleats into position on the wall, partially insert wood screws by hand into each pilot hole.
Positioning your cleats
View instructions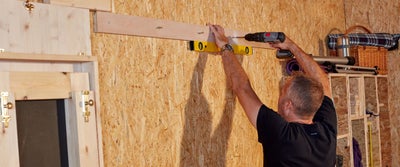 A good reference point for your highest cleat is to align it with other features on your wall or in the surrounding space. Use a spirit level or straight surface to mark a line on the wall where the highest point will sit. This should be central to the space and still within reach.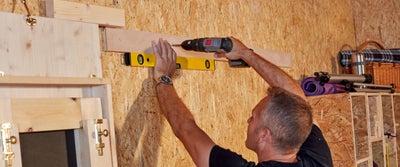 Holding the top cleat in place and using your spirit level, tighten the first screw before securing the others to the wall.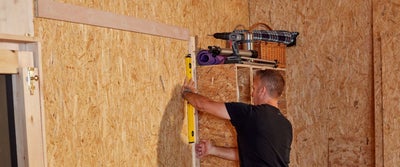 To ensure all of the cleat lengths are aligned, use a temporary fixture. Screw a scrap piece of timber to one end of your top length, ensure that it perfectly vertical. This can be removed once the wall is complete.
Installing your cleats
View instructions
Ensure that the space between the lengths is larger than the narrower 55mm strips, otherwise the cleats will not slot into their counterpart on the wall. We have left a gap of 88mm or approximately 3.5 inches.
Once you've installed the highest cleat and your vertical guide, you can begin to install your remaining lengths.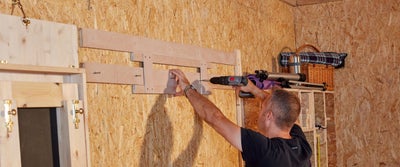 Measure and mark the space between each strip with your tape measure, or for accuracy make a spacer to ensure each length is equally aligned. You can use scrap pieces of timber that are cut to your desired width, or you can make an offcut jig as a supporting guide.
Screw each length to the wall using this process.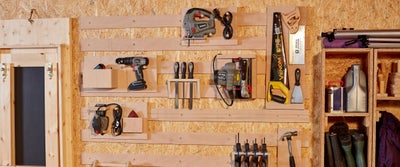 Once all of your cleat lengths are mounted, it's time to get creative with your counterpart accessories.
Cutting timber for the storage box
View instructions
To help you get started, we're going to show you how to build a cleat storage box. The principles of this design will show you how the cleat system components are constructed. We have modelled this design on a traditional toolbox, but the size and shape can easily be adapted for any of your tools and equipment.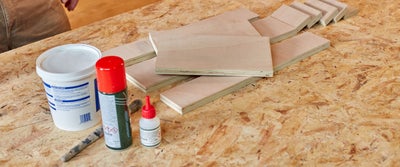 Using offcut timber or leftover plywood, cut your pieces to size with your chop saw. Plywood lends itself very well to using glue and pins to secure the structure, for a neat and tidy finish.
For the toolbox, you should have a rectangular base and matching length of dowel as a handle; two side pieces that are the same length as the base; two end pieces that are the same width as the base and optional dividers that are the same width and height as your side pieces.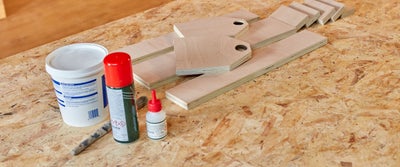 To secure the dowel handle to the end pieces you will need to make a hole into each of your end pieces. Using a hole saw or flat wood (spade) bit that matches diameter of your dowel, drill through to create two hole openings.
Constructing the storage box
View instructions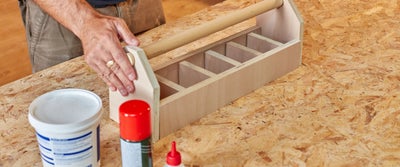 Dry lay the pieces on your workbench, arranging them so the construction is clear in your head.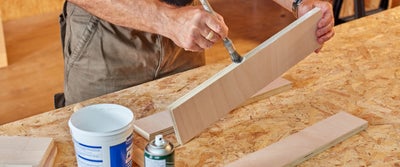 Apply a thin layer of PVA glue with a paintbrush along the first side piece length, adding a dab of mitre adhesive glue at either end, then hold in place checking the edges are flush.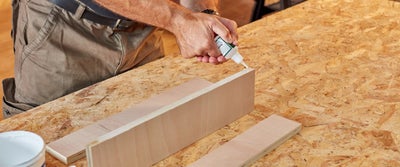 This double glue application will ensure your material doesn't slip or slide while you work, so your pinning is accurate.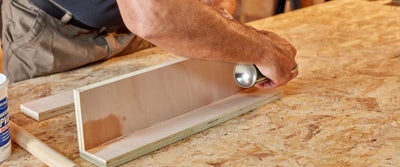 Spray mitre adhesive activator along the glued edge to activate the glue and temporarily hold the piece in place.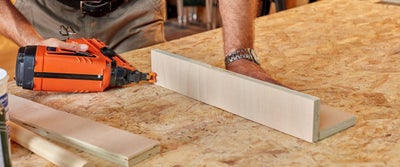 With the joint flush to the table, take your nail gun and pin through the side piece into the base. To create an even stronger joint, fire the pins at an angle, alternating the direction.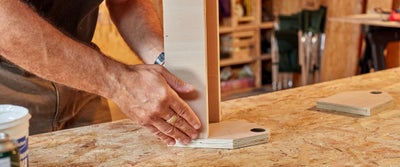 Wipe away any excess glue then repeat this process on the other side piece and end pieces.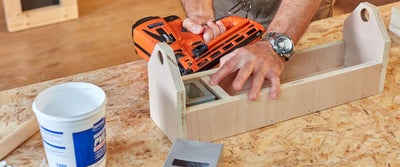 If you choose to add the toolbox dividers, decide on your spacing before following the same principles to glue and pin each piece in place.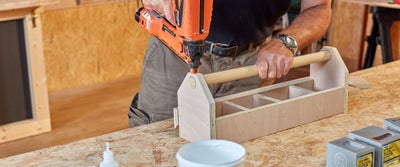 Pass the dowel handle through the end piece holes, adding a pin with your nail gun, through the top of each end piece to secure.
Adding the cleat hook to the storage box
View instructions
For the toolbox to work with the cleat system, a flat vertical surface and a 45 degree hook are required.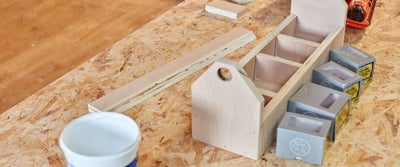 Take one of the narrower cleat lengths made earlier and cut it to size, so it matches the length of your toolbox.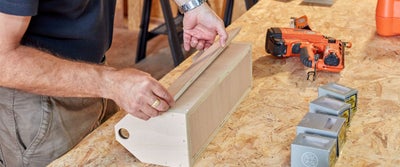 Ensuring that the cleat angle is facing down and towards the side piece, glue and pin the 45 degree strip into position on the back of the storage box.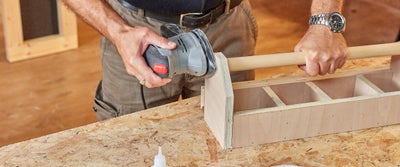 Wipe away any excess glue and give the cut edges a light sand to remove any rough or sharp timber.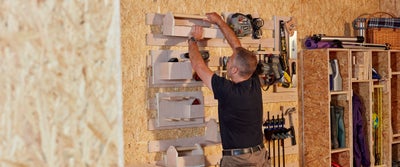 Your French cleat system and first storage box are now complete and you're ready to go!
Aftercare
View instructions
For a perfect finish, give your cleat lengths a good sand down between stages to remove any rough or frayed timber edges.
Get creative with your cleat system
View instructions
The cleat system design can be tweaked to suit your custom needs. Create smaller and shorter lengths above your chop saw, or workbench for your most-used tools or create a full floor to ceiling system to entirely organise your space.
Once you have mastered the fundamentals of the cleat system, there's a whole world of flexible accessory options. If you can build it and add cleat hooks, it'll hang!
For uniformity, the accessories look fantastic when they are made from the plywood offcuts, however if you would like to use leftover timber from other projects, this is a great opportunity to get creative.
Try making tool holders, boxes, hooks and clamp brackets from scrap timber to get started.
Drill through an offcut with a hole saw or flat wood (spade) bit, to create evenly spaced holes, then attach a 45 degree cleat to the back. These storage racks can be used to store all manner of hand tools from chisels and screwdrivers to drill bits.
Make wide L shaped brackets with cleat hooks, to hold larger power tools or to organise your clamps.
Build small levels and shelves or utilise offcut boards with added dowel pegs. Use the pegs to wrap power tool cables around or hang small tools from their handles.
Make timber toolboxes in varying sizes and fill with your DIY essentials for a quick grab and go facility.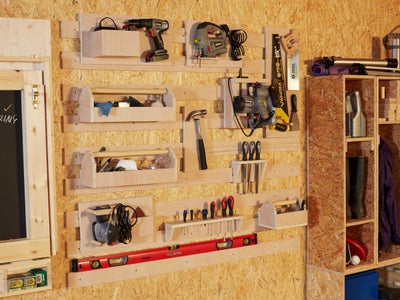 French cleat inspiration
View instructions
Arrange your equipment, display your power tools and clear the decks in your workshop or garage, with neat and tidy cleat organisation.
Bring French cleat storage into the home and fill an empty alcove or wall with customisable art. Paint your cleat lengths then add hooks to the back of picture frames for a flexible art gallery.
Make a French cleat wall display, added cleats to open timber boxes and shelves to display potted plants, books and knickknacks.
For more inspiration and ways to maximise storage in your home, visit our ideas and advice hub.